CMSRU welcomes high school students from throughout the region for MEDacademy
---
On Monday, July 9, Cooper Medical School of Rowan University (CMSRU) welcomed its fourth cohort of MEDacademy students, a four-week summer program for high school juniors and seniors interested in medical careers. This year's class is our biggest yet, with 36 students in the first phase and 13 students enrolled in MEDacademy Master's (MAM), our advanced program.
This summer's program builds on the successes of previous years and also offers some new experiences for the students. As in the past, the curriculum will cover pathology, cardiology, gastroenterology and neurology. Students will participate in activities in CMSRU's simulation center, including reading electrocardiograms, working with the cardiopulmonary patient simulator (Harvey) and using a Doppler ultrasound. This year students will also learn firsthand the benefits of interprofessional health care teams and practice intubation on simulation mannequins. Additionally, they will participate in Stop the Bleed, a program that train, equips and empowers the public to handle bleeding emergencies before professional help arrives.
"MEDacademy offers high school students the opportunity to delve into the medical school experience," said Jocelyn Mitchell-Williams, MD, PhD, associate dean of diversity and community affairs at CMSRU and the MEDacademy medical director. "Our program doesn't just include a medical-based curriculum. MEDacademy also incorporates service into its programming, which helps students understand CMSRU's mission and our commitment to humanistic education," Mitchell-Williams noted.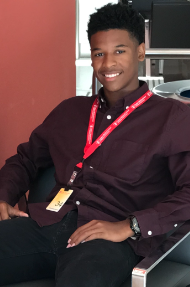 Students participate in active learning groups (ALGs), where they work through medical cases as a group, learning the value of collaborative learning and teamwork. The ALGS are led by rising second year medical students who have taken an active interest in working with youth in the community. They include Brenda Arthur, Elyse Candelaria, Abe Hakim, Stephen Meixner, Claudia Rugama, Shouli Tung and Ryan Vance.
MEDacademy students this year come from as far away as Montgomery Township, NJ; Winslow, NJ; Burlington, NJ and across the bridge in Philadelphia. Some use the program as an opportunity to gain exposure to career and educational options, as they consider their future goals.
Others, like Kysen West from Monroeville, NJ, chose the program because they are already committed to the field of medicine and the concept of paying it forward. "I really wanted to invest in my future, so that later on in life I can invest in others," said West.
---
About MEDacademy
MEDacademy is a four-week summer day program which introduces high school students to medical school and helps to refine their particular interest in health care. Students are exposed to four featured medical specialties and participate in lectures, hands-on demonstrations, case-based learning activities, and interactive clinical simulations taught by our faculty, medical students and staff. To conclude the full medical school experience, students present a final group project during a graduation ceremony
About MEDacademy Master's
MEDacademy Masters is an advanced two-week medical education experience program for highly motivated and dedicated MEDacademy graduates who want to further expand their knowledge and skills in the field of medicine. This program builds on the medical education foundation learned in MEDacademy and offers a progressive educational and a hands-on learning experience in the CMSRU Gross Anatomy Lab, which offers students a unique, intensive dissection experience.