CMSRU welcomes new medical students during annual White Coat Ceremony
---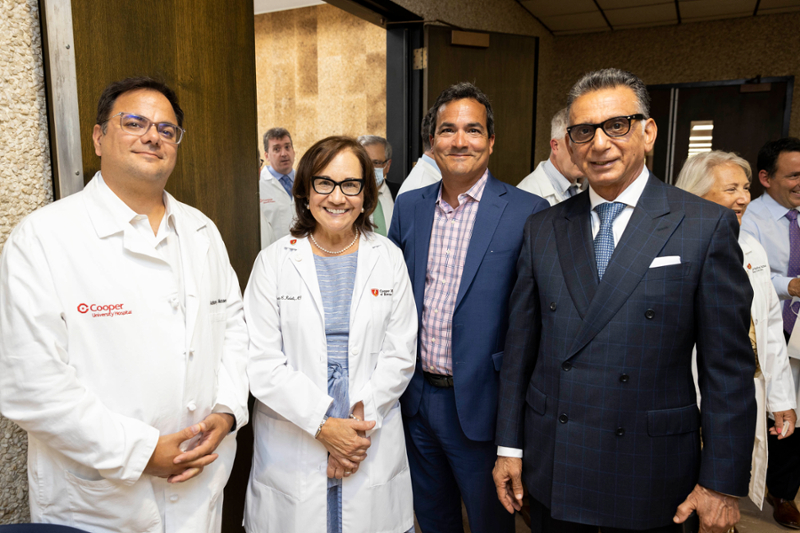 Cooper Medical School of Rowan University (CMSRU) officially welcomed 112 new first-year medical students into the profession of medicine during the Class of 2026 White Coat Ceremony, held at Pfleeger Concert Hall on Friday, September 9.
The White Coat Ceremony included inspirational talks by several special guests, the traditional "cloaking" ceremony, and the students' first recitation of a modern version of the Hippocratic Oath. The event was livestreamed on CMSRU's YouTube channel for those who could not attend in person this year.
"You have chosen to enter medicine during a global pandemic and your attitudes will be forever shaped by this profound experience," said Annette C. Reboli, MD, dean of CMSRU, during her opening remarks. "Our job over the next four years is to help you become the person who fills your white coat with the attitudes and skills worthy of our noble profession."
Rowan University President Ali Houshmand, PhD, and Rowan University Provost Anthony Lowman, PhD, welcomed the students and their loved ones into the Rowan family, and congratulated them on achieving admission into medical school.
"As you begin your journey here with us, expect big things from your university," said President Houshmand. "And we know we can expect big things from you in the years ahead."
In his remarks, Provost Lowman lauded the class for their achievements thus far.
"I see your sacrifice, your commitment, and I know you've worked hard to get into medical school," Dr. Lowman said. "Now the hard work starts. The next four years will be challenging and rewarding, and will change you in ways none of you have imagined."
This year's White Coat Ceremony guest speaker was Emily Damuth, MD, assistant professor of medicine and emergency medicine at CMSRU. Dr. Damuth is a clinician who splits her time between Cooper's emergency department and multidisciplinary intensive care unit.  In addition, she is passionate about medical education and mentoring medical students, residents and fellows, and serves as an assistant program director for the critical care medicine fellowship at Cooper and an advisory college director at CMSRU. Dr. Damuth shared her experiences working in Cooper's intensive care unit and the unexpected lessons she learned.
"As we place a perfectly ironed white coat around your shoulders, understand that medicine is wrinkled with creases, lumps and bumps, and occasional coffee stains. But the wrinkles are where the meaning in medicine is found, in white coats stuffed with to-do lists and journal articles researched at 2 am to understand disease and find evidence for treatment," said Dr. Damuth. "Soon your pockets will be filled with lists of patients that are people first, imprinting lessons in your minds and emotions in your memories."
Following Dr. Damuth's presentation, students were called one-by-one to the stage, where they were cloaked in their white coats by faculty mentors. Each student also received a new stethoscope compliments of the Medical Staff of Cooper University Health Care, and a copy of the book Wonder Drug compliments of its authors, Anthony Mazzarelli, MD, JD, co-president of Cooper University Health Care, and Stephen Trzeciak, MD, chair and chief of the department of medicine at Cooper. In addition, family and friends provided inspirational notes that were placed in the pockets of the students' white coats.
Senior Associate Dean for Admissions William Kocher, MD, then led the first-year students in reciting a modern version of the Hippocratic Oath for the first time. All guests who were physicians were invited to stand and renew their commitment by participating in the recitation as well.
CMSRU's 112 first year medical students join the 343 students already attending the school, bringing enrollment to 455 students. Sixty-six percent of the Class of 2026 hail from New Jersey, and 14 are Rowan University alumni.
The first White Coat Ceremony was held in 1993 at Columbia University College of Physicians and Surgeons and has become an important rite of passage for first year medical students at schools throughout the United States.