CMSRU aims to diversify physician workforce through its Premedical Urban Leaders Summer Enrichment (PULSE) program
---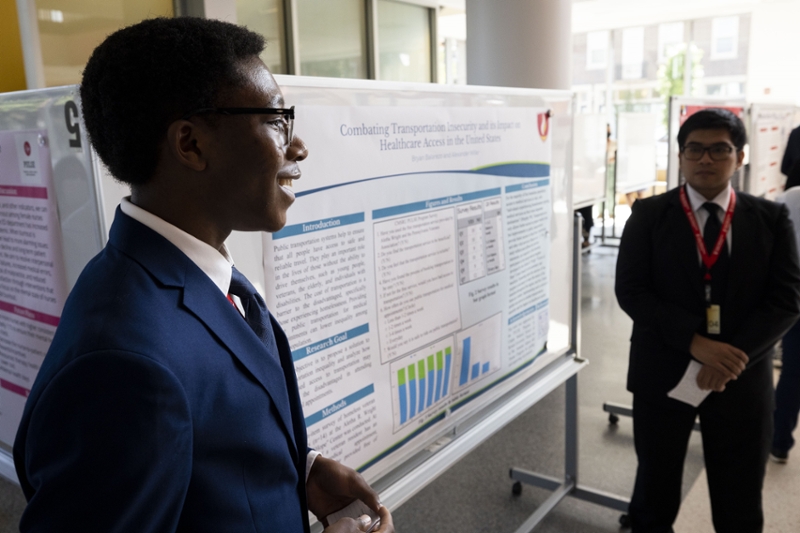 Nearly 50 undergraduate students traveled from colleges and universities across the country this past summer to participate in an intensive six-week academic enrichment program in Camden, New Jersey, that has helped hundreds of young adults achieve their goals of attending medical school and other competitive graduate allied health programs.
Known as the Premedical Urban Leaders Summer Enrichment (PULSE) program of Cooper Medical School of Rowan University (CMSRU), this innovative program was developed to provide underrepresented and/or educationally and financially disadvantaged students equitable enrichment opportunities and exposure to medical professions.
"It's been widely acknowledged that the physician workforce in the United States does not reflect the diversity of our nation's population, and we also know that cultural competency among healthcare providers has a positive impact on patient outcomes," explains Jocelyn Mitchell-Williams, MD, PhD, founder of PULSE and CMSRU's associate dean for medical education.
"At CMSRU, we are helping address this issue through our successful pipeline programs for learners – from elementary school through their college undergraduate years – who may otherwise not have access to enrichment opportunities. Our pipeline programs help build interest, skills, knowledge and create opportunities for exposure to science and medicine, with the ultimate goal of diversifying the physician workforce and creating healthier communities."
Launched in 2011, PULSE is one of CMSRU's first pipeline programs by its Office of Diversity & Community Affairs. Now directed by Taruna Chugeria, the program is designed to provide college students with academic, clinical, research and service learning opportunities with a focus on urban health. Additionally, Phases II and III of PULSE offer MCAT test prep, physician shadowing opportunities, and gross anatomy lab sessions. CMSRU even offers special pathways for admission into its MD-program for PULSE graduates who meet specific criteria. Since its inception, more than 500 students have completed the PULSE program, and approximately 35% of those students have matriculated into medical schools or other health profession programs, including attending and graduating from CMSRU.
Applications for the 2023 PULSE program recently opened, and the team at CMSRU is looking forward to meeting the incoming cohort of participants this summer.
This year's PULSE class came from a total of 23 different colleges and universities nationwide, some of which include: Rowan University, Rutgers University, Lafayette College, Howard University, University of Maryland and Spellman College. 
Each student completed one of the three phases of the program specifically developed to target students at different stages of their education. Phase I is for students just starting their pre-professional studies and have completed the general eligibility requirements; Phase II is for those who have completed two semesters of biology, chemistry and organic chemistry; and Phase III is for students who are at or near the point of applying to professional school and have completed nearly all pre-professional science requirements. 
Naomi Ganpo-Nwenka, a recent graduate of Lafayette College with a major in biology and minors in anthropology and sociology, recently completed Phase III, marking the end of her journey in the program. 
"I'm pursuing a career as a physician because I have an interest in being representative of Black people in medicine. More specifically, I am focused on research and learning more about the health outcomes of Black women," said Ganpo-Nwenka. "My dream is to become an obstetrician gynecologist (OB/GYN). I often think about my family and future generations to come – I'm driven to make the medical field a place where they will feel protected."
As a participant of the PULSE program, Ganpo-Nwenka worked on research related to her area of interest in maternal health. She values what she has learned and her collective experience during her time throughout all three phases of the program.
"The PULSE program incorporates a variety of factors, including aspects that a student can't necessarily learn about in a textbook," Ganpo-Nwenka explained. "It enhances your understanding of the social determinants of health and the wide range of components impacting one's health."
Ganpo-Nwenka is not only a stellar student – she's also a highly-skilled basketball player. Hailing from Toronto, Canada, Ganpo-Nwenka played basketball all four years at Lafayette College. Now, she's set to play on a semi-professional basketball team through the Sport Changes Life program. Ganpo-Nwenka traveled to Ireland to participate in the program. She looks forward to playing a sport that she loves, while also positively impact the lives of others.
Ganpo-Nwenka is a current medical school applicant (and recently accepted student at CMSRU) with plans to begin her education in the fall of 2023. When reflecting upon her time in the PULSE program, she is proud of the connections she's made with other participants in the program – her future colleagues.
"It was great to form such meaningful connections with individuals who have shared experiences in coming from backgrounds that are underrepresented in medicine," said Ganpo-Nwenka. "I look forward to seeing them thrive in the medical field."
Students who are interested in applying for the PULSE program can learn more about the summer enrichment program here. The deadline for application submissions is February 6, 2023.