PC3: An accelerated track at CMSRU for students driven to practice primary care
---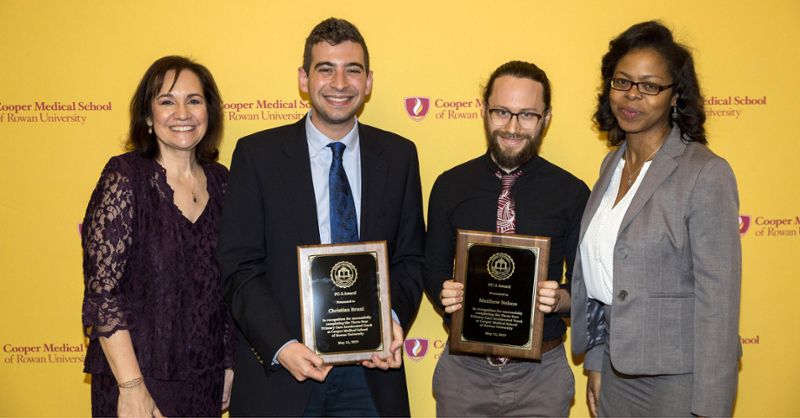 Christian Bruni and Matthew Nelson have two things in common.
Both have a strong interest in providing quality, humanistic and patient-focused primary care, and both are proud alumni of Cooper Medical School of Rowan University (CMSRU).
In 2019, Drs. Bruni and Nelson earned their doctor of medicine (MD) degrees as members of the inaugural cohort of the accelerated three-year medical education curriculum at CMSRU, referred to as the "PC3 track." For students with a strong interest in pursuing a career in primary care internal medicine or pediatrics, CMSRU offers the PC3 track as an option to earn an MD degree at an accelerated pace, therefore bypassing the fourth year of the "traditional" medical school track. Instead, PC3 graduates have a direct pathway into training at Cooper University Health Care, in primary care-specific residency tracks.
Drs. Bruni and Nelson both applied to the program because they had an initial interest in primary care.
"Throughout my undergraduate career, I focused on studying a variety of topics related to cognitive science – including psychology, philosophy and computer science, as well as social determinants of health," said Dr. Nelson. "With this background, the concept of getting to really know patients while working together with them over a period of time really appealed to me and drew me to primary care."
"As primary care physicians, we have the ability to inspire patients to practice healthy habits," said Dr. Bruni. "More specifically, in pediatrics, I see many patients starting at a young age, and I find it exciting that I have the opportunity to support them as they grow in forming healthy lifestyles."
A choice to focus on either internal medicine or pediatrics
Students in the PC3 track choose to focus on either internal medicine or pediatrics in their primary care career. The track then supports each student's area of focus with extra outpatient clinical experiences in their chosen field, preparing them to enter their residency programs where they will continue to train in that specific area. Dr. Bruni was the first CMSRU student to complete the track with a focus on pediatrics, while Dr. Nelson was the first to complete the track with a focus on internal medicine.
During the first and second year, students are introduced to basic clinical skills and gain early exposure to primary care settings. The program also offers specially-designed courses to enhance students' clinical skills as well as understanding of the complex social and public health landscape faced by primary care physicians. For example, a course titled "Transforming Health Care in an Urban Environment" explores the work of Camden community organizations, as well as Cooper University Health Care, in tackling healthcare barriers in the local area.
"Primary care is an area of medicine that is so valuable," said Jenny Melli, MD, assistant professor of medicine at CMSRU, internal medicine and primary care physician, as well as program director of the primary care track of the Internal Medicine Residency Program at Cooper University Health Care. "The PC3 program illustrates CMSRU's commitment to preparing primary care physicians to serve medically-underserved communities. The program is a testament to the true value of primary care services in an urban community."
A strong support system
The PC3 track also offers unique opportunities to connect with peers, professors and mentors. Reflecting upon their time throughout the program, Drs. Bruni and Nelson recall feeling supported by the community around them.
"I felt very supported during my time in the PC3 program," said Dr. Bruni. "I felt as though there was always someone I could turn to if I needed help in any way. I knew there were people looking out for me."
"I felt safe and secure in the program," said Dr. Nelson. "Knowing that I would stay in the local area for residency made a big difference."
In addition to mentorship, students gain early exposure to their specific area of interest, and this fosters a dynamic learning environment from early years as a medical student through one's time as a resident physician.
Looking to the future
After earning their MD degrees in 2019, Dr. Bruni entered into Cooper University Health Care's Pediatric Residency Program, while Dr. Nelson entered into Cooper University Health Care's Internal Medicine Residency Program. With their residency training now behind them, Dr. Bruni is excited to remain at Cooper, where he will transition to serve as a 4th year chief resident and then attending physician. Dr. Nelson has started a geriatrics fellowship at the University of Rochester, one of the most established geriatrics fellowship programs in the country.
"The PC3 program was funded by a grant from Health Resources and Services Administration (HRSA) and supports the natural effort to train future primary care providers with a commitment to patient advocacy, civic responsibility and diversity," explained Annette C. Reboli, MD, dean of CMSRU. "We look forward to supporting the growth and development of this program for years to come."
In addition to Drs. Bruni and Nelson, a total of nine physicians have successfully completed the program in the internal medicine and pediatrics tracks, and they continue to thrive in residency training at Cooper University Health Care. Year after year, the track continues to garner significant interest among applicants to CMSRU.
Looking to the future, there are plans to expand the program to include a focus on family medicine, in addition to the existing areas of focus in internal medicine and pediatrics. The HRSA grant support has been completed and the program is now fully incorporated into the CMSRU Office of Medical Education.
"We are so very proud of Dr. Christian Bruni and Dr. Matthew Nelson and have been lucky to have them be the first graduating class in the PC3 track," said Camille Henry, MD, director of the PC3 program, internal medicine-pediatrics primary care physician and assistant professor in the department of family and community medicine at CMSRU. "We know they will continue to positively impact so many children, adults and families in their primary care careers."