Targeting a brain receptor to alter opioid effects
---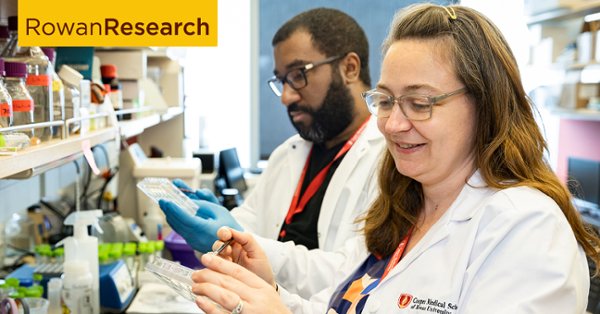 Morphine is the first-line treatment for acute severe pain, but drugs like it pose a serious risk of addiction. Dr. Amanda Fakira, assistant professor in the Department of Biomedical Sciences at Cooper Medical School of Rowan University (CMSRU), is targeting receptors in the brain that can modulate the effects of opioids on the body. 
"We're trying to identify targets that would preserve morphine's analgesic effects without the risks of dependence and addiction," said Fakira. "We want to keep all of the good things and get rid of the bad, so people can still take these medications for pain without the risk of abuse." 
In particular, Fakira is interested in GPR83, a type of G-protein coupled receptor. There are many G-protein coupled receptors in the body, but this one, Fakira noted, is both "special and understudied." Until recently, GPR83 has been considered an "orphan receptor" because the molecule that activates it, otherwise known as its endogenous ligand, hadn't yet been discovered. Now it has. 
By applying behavioral models and experiments involving electrophysiology to mouse models, Fakira has made new discoveries about how the GPR83 receptor alters opioid effects. 
"By activating or inhibiting this receptor, we can modulate the effects of morphine on pain relief and the reward pathway," Fakira said. "If you inhibit this receptor, it enhances the pain-relieving effects of morphine while impeding the reward pathway that contributes to opioid dependency and addiction." 
Now Fakira wants to understand how the GPR83 receptor modulates opioid effects on the body in this way. 
In addition to serving on the faculty of CMSRU since January 2020, Fakira recently accepted a secondary appointment at Rowan University School of Osteopathic Medicine. 
Rowan University researchers are passionate about what they do. Find more at Meet Our Researchers.