Medical school announces $2.1 million gift to launch Center for Humanism and establish endowed professorship
---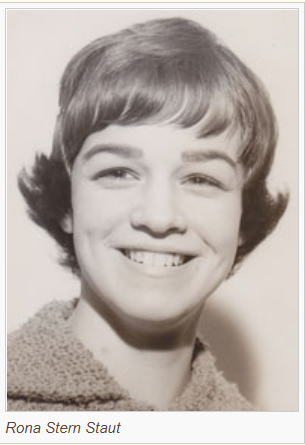 The Rona Stern Staut Foundation and the Marc and Eva Stern Foundation of Los Angeles, CA., have together committed $2.1 million to
Cooper Medical School of Rowan University (CMSRU)
to launch a new Center for Humanism and establish the Rona Stern Staut Research Professorship in Humanism and Bioethics at CMSRU, the school's first endowed professorship.
Since its inception, CMSRU has focused on integrating into its medical education curriculum aspects of humanism in medicine—compassion, empathy, communication, and professionalism. Establishing a Center for Humanism provides the framework to broaden research, education and faculty development programs around these important values. The Center will focus on humanistic medicine, professionalism, bioethics and law as the primary areas of study.
The cornerstone of the new Center for Humanism – the Rona Stern Staut Research Professorship in Humanism and Bioethics – memorializes Rona Stern Staut, an always cheerful and optimistic young woman from Vineland, New Jersey who died in 1971 at age 29 due to complications from lupus.
CMSRU's Senior Advisor to the Dean and Honorary First Dean, Edward D. Viner, MD, served as Staut's physician for nearly a decade at Pennsylvania Hospital prior to her death. Moved by her courage and compassion, he created the Rona Stern Staut Foundation, which, over the decades, has supported many worthy projects.
In 2014, Dr. Viner decided to contribute the $1.1 million remaining in the RSS Foundation to CMSRU. Marc Stern, Rona Stern Staut's brother, agreed to provide an additional $1 million gift in Rona's memory from the Marc and Eva Stern Foundation.
"My sister Rona was stricken with lupus at the age of 16. Knowing her days were limited, she lived every day to the fullest. She just missed her 30th birthday, but had much joy in the fourteen years she lived with this horrible disease. This was in large part because of the humanistic care she received from Dr. Viner and his colleagues," said Marc Stern. "When she passed away, she left behind a legacy of love and hope in her children, her family, and her friends. Our family will always be grateful to Dr. Viner for the love he showed to Rona by establishing the Rona Stern Staut Foundation in her memory. We are honored to join him in establishing this new Professorship in her name. She would have been pleased with its purpose."
During his 55 years as a physician, Dr. Viner has developed a deep understanding of how and why medical education must refocus in order to improve healthcare delivery at the bedside.
"CMSRU is a medical school with a soul," explains Dr. Viner. "It's a place where students learn the importance of truly communicating with patients on a human level, as well as understanding the social and societal factors that can hinder or enhance patients' commitment to their own health. At CMSRU we are striving to educate the kind of doctor that you would want to care for yourself or a family member."
"We are tremendously grateful to Marc and Eva Stern and the Rona Stern Staut Foundation for their generous philanthropy, foresight and dedication to educating a caring and compassionate physician workforce," said Dean Paul Katz, MD. "This combined gift is the largest contribution CMSRU has received to a single designation and will help us build on our foundation as a leader in humanistic medical education, reinforcing what already makes CMSRU unique."
The gifts for the Center for Humanism and the Rona Stern Staut Research Professorship come during an important year of milestones for CMSRU. Excitement is growing for the school's first-ever "Match Day" in March and for the graduation of the charter class in May. CMSRU will also undergo its final round of visits from the Liaison Committee on Medical Education (LCME), which should result in CMSRU gaining Full Accreditation status in spring 2016.
Rowan's designation as a state research institution in 2013 and the addition of its two medical schools—CMSRU and Rowan University School of Osteopathic Medicine in Stratford, NJ—have uniquely positioned the University to address the future of health care education and delivery.
"CMSRU continues to spearhead innovative approaches to medical education that emphasize excellence in patient care and the values of empathy, compassion and ethics," said Rowan University President Dr. Ali Houshmand. "We are grateful for our partnerships with donors like the Sterns who feel strongly about our mission and understand that together, we can make a difference."
As CMSRU works to nurture physicians who will not only be well trained, but who will also treat patients with compassion, respect and dignity, the legacy of Rona Stern Staut will endure.
"While Rona's life was brief, she will leave a lasting legacy at CMSRU," explained Viner. "I am so pleased that through this gift, the name of Rona Stern Staut will be forever associated with excellence in humanistic medical education."