Cooper Medical School of Rowan University celebrates graduation of 104 new medical doctors during joyous Commencement Ceremony
---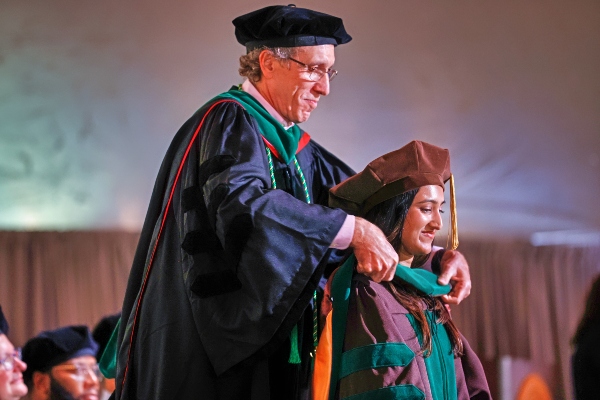 On Thursday, May 11, Cooper Medical School of Rowan University (CMSRU) held its commencement ceremony for the 104 members of the Class of 2023 – it's largest graduating class since the school's inaugural commencement in 2016.
A festive atmosphere filled the air as the graduates, along with CMSRU deans and faculty and leaders from Rowan University, gathered with students' families, friends, and loved ones under a spacious tent on Rowan's main campus in Glassboro.
CMSRU Dean Annette C. Reboli, MD, took the podium, her voice resounding with pride and admiration for the accomplished class before her. She spoke about the transformative journey the graduates had undertaken during their time at CMSRU, emphasizing the dedication, resilience, and compassion they've demonstrated – especially during the COVID pandemic.
"Now more than ever there's a profound need for physicians to show courage and conviction in confronting societal issues that impact the health and well-being of our patients individually and collectively including medical and scientific misinformation, the politicization of public health policy and health disparities; to stand united for science and medicine; and to be there for our patients, our colleagues, and our communities," said Dean Reboli. "As you go forward on your next journey, go forth with confidence, courage, and all your heart!"
The anticipation grew as the guest speaker, Dr. David Nash, Founding Dean Emeritus and Dr. Raymond C. and Doris N. Grandon Professor of Health Policy at Jefferson College of Population Health, captivated the audience with his insights into the future of healthcare. His words resonated deeply with the graduating class, instilling in them a sense of purpose and responsibility as they embark on their medical careers.
The highlight of the event came with the reading of the names and the doctoral hooding ceremony. One by one, the students stepped forward, their faces beaming with pride and accomplishment. Their physician mentors carefully placed the doctoral hoods over their shoulders, symbolizing their transition into the noble profession of medicine. Then, with diplomas in hand, they were congratulated by Dean Reboli, sealing their journey at Cooper Medical School.
Finally, William Kocher, MD, senior associate dean for admissions, led the new physicians in the recitation of the Hippocratic Oath. The graduates were joined by all physicians in attendance in vowing to be fair and just healers, educators, and members of their communities.
"This was a day filled with joy, gratitude, and immense pride," remarked Dean Reboli at the conclusion of the event. "The Class of 2023's achievements at CMSRU have prepared them to make a lasting impact on the lives of countless patients, and their journey has only just begun."
In a few weeks, CMSRU's newly minted doctors move on to the next phase of their medical education as first year residents. They join the 525 CMSRU alumni now training and providing healthcare at hospitals and medical centers across the country.