CMSRU announces speaker for inaugural commencement
---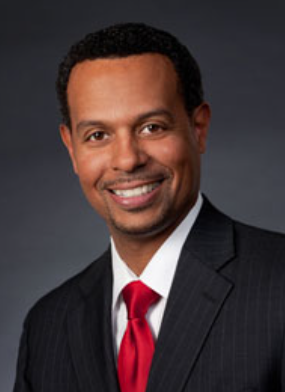 Paul Katz, MD, Dean of
Cooper Medical School of Rowan University (CMSRU)
, announced today that Marc A. Nivet, EdD, MBA, Chief Diversity Officer at the Association of American Medical Colleges (AAMC), will deliver the keynote address at CMSRU's inaugural 2016 Commencement Ceremony on Monday, May 9, 2016.
Dr. Nivet is a champion for increasing diversity in medical education and advancing health care equity for all. In his role at AAMC, he has encouraged medical schools throughout the United States to embrace diversity as a driver of educational excellence, eliminate racial disparities in health care, and create best practices for increasing minority enrollment in health professions schools.
"Dr. Nivet's strategic vision and the initiatives he has promoted align perfectly with CMSRU's own mission and vision," explained Paul Katz, MD, Dean. "His message of inclusivity and health care equity resonates with our students, and we're proud and excited that he has accepted our invitation to be the speaker at our charter commencement ceremony."
Dr. Nivet has been a strong advocate of CMSRU, a proudly mission-driven school, since it welcomed the charter class in 2012. CMSRU has embraced and valued diversity in its broadest sense at a time when older medical schools were just beginning to recognize the impact these issues can have on medical education.  Dr. Nivet has been instrumental in bringing national attention to successful diversity initiatives at medical schools nationwide, including CMSRU.
Previously, Dr. Nivet served as the Chief Operating Officer and Treasurer for the Josiah Macy, Jr. Foundation in New York City, which supports programs designed to improve the education of health professionals in the interest of the health of the public. Prior to that, Dr. Nivet held positions as Director of State Outreach at the philanthropic Sallie Mae Fund, Associate Executive Director of the Associated Medical Schools of New York, and Director of the Office of Minority Affairs at the New York College of Osteopathic Medicine.  
 
Dr. Nivet received his undergraduate degree in Communication Studies from Southern Connecticut State University and Master of Science degree in Higher Education/Student Development from Long Island University. He earned his Doctor of Education degree from the University of Pennsylvania School of Education.  
 
A fellow of the New York Academy of Medicine, Dr. Nivet is a past president of the National Association of Medical Minority Educators, Inc., which presented him with its Outstanding Service Award in 2006. He was awarded the Riland Medal for Community Advocacy from the New York College of Osteopathic Medicine in 2009.  Dr. Nivet currently serves on several non-profit boards and committees and is an adjunct professor at Hofstra University in New York.
CMSRU's inaugural commencement will be a historic event for Rowan University, Cooper University Health Care, and the entire southern New Jersey Region. The event will take place under a tent on the green at the new KIPP Cooper Norcross Academy, immediately adjacent to CMSRU.