CMSRU receives prestigious AAMC Excellence Award for exceptional career advising system
---
Camden, New Jersey -- Cooper Medical School of Rowan University (CMSRU) received the esteemed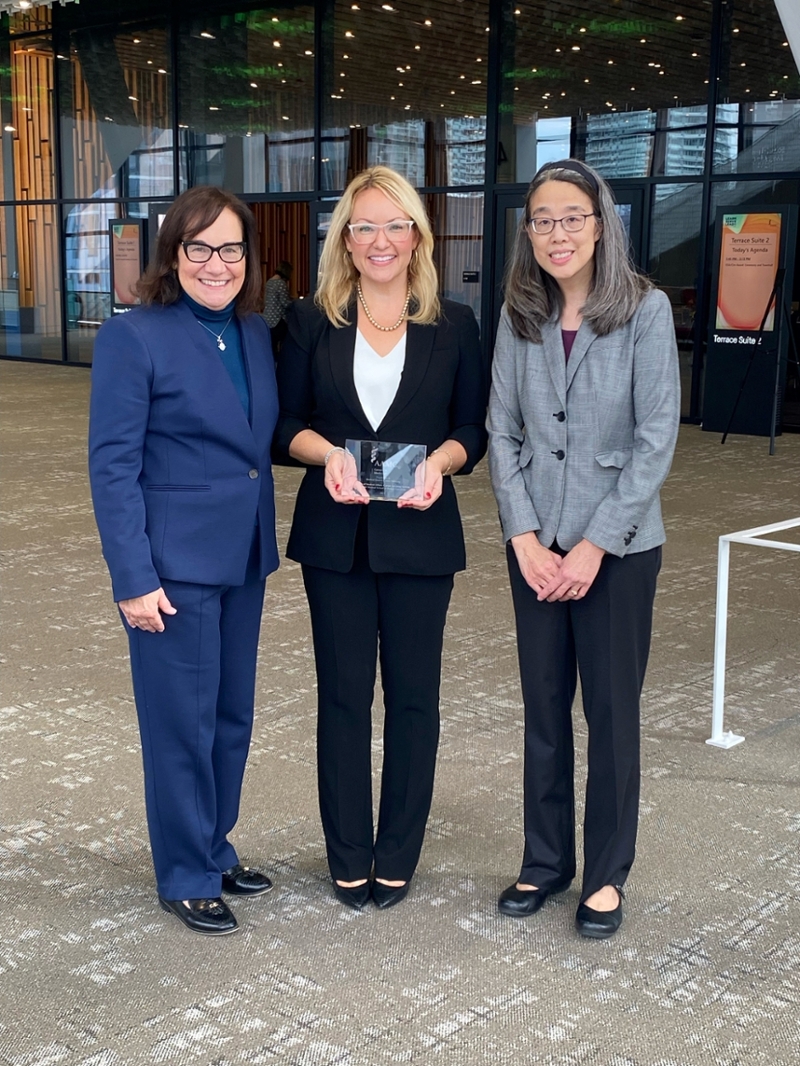 Association of American Medical Colleges (AAMC) Careers in Medicine (CiM) 2023 Excellence in Medical Student Career Advising Award. This recognition underscores CMSRU's unwavering dedication to guiding medical students in their journey to explore career options, make vital specialty choices, and secure coveted residency positions nationwide. CMSRU's Dean Annette C. Reboli, MD, and Associate Dean for Student Affairs Erin W. Pukenas, MD, graciously accepted the award on behalf of the institution.
A comprehensive approach to career advising
CMSRU's Career Advising System (CAS) stands out for its comprehensive and holistic approach, ensuring no aspect of a student's career development journey is left unaddressed. Led by the Office of Student Affairs, the CAS program is an intricate tapestry of resources, programs, and dedicated personnel. It is designed to provide unwavering support to students throughout a student's medical education, incorporating all four phases of the CiM model – self-understanding, career exploration, decision-making, and decision implementation.
At the heart of the program is the solid foundation of the AAMC's Careers in Medicine (CiM) program. CiM is introduced to students during admissions and seamlessly integrated into the students' medical education journey, continuing through their residency transition. This holistic approach effectively incorporates all four phases of the CiM model, seamlessly integrating them within a formal, hybrid curricular and co-curricular structure.
"We believe in shaping not only the medical knowledge but the career dreams of our students. This award underscores CMSRU's commitment to empowering future physicians to make informed choices and realize their aspirations," said Annette C. Reboli, MD, dean of CMSRU. "I'm incredibly proud of our Office of Student Affairs for their dedication to our students' success and grateful that we've earned national recognition for our work." 
"A special thank you to Dr. Pukenas, Dr. Stephanie Smith, director of student affairs, and Frank Aguilar, executive director of the advisory colleges, as well as the advisory college directors and career coaches," added Dean Reboli.
A robust support network
Supporting the CMSRU CAS system are more than 40 faculty physician advisors, career coaches, and subspecialty mentors. They work collaboratively in a team-based model with student support services specialists, licensed counselors, diversity mentors, learning support specialists, and wellness specialists. This comprehensive network is carefully structured to provide holistic advising and support to each student, catering to their individual needs and circumstances.
"CMSRU's CAS program recognizes that every student's medical school journey is shaped by not just their academic endeavors but also by personal, psychosocial, developmental, and cultural aspects of their lives," explained Associate Dean Pukenas. "We aim to offer a supportive and inclusive atmosphere for all our students, ensuring that no one is left behind."
Embracing the "whole-student" approach
The CAS program at CMSRU operates on the guiding philosophy of understanding each student's unique journey. It considers social-emotional dimensions, physical and mental wellness, and personal and cultural circumstances. The CAS program adopts a holistic and individualized approach to advising, offering each student an individualized, tailored team of support. This team includes advisors, coaches, mentors, support services specialists, licensed counselors, diversity mentors, and wellness specialists.
Students and alumni recognize how special CMSRU's program is. In a letter of support for the nomination on behalf of the student body, Class of 2023 President Kirtan Upadhyaya, MD, noted the profound influence of CMSRU's Career Advising System on students' career trajectories and their personal development as future physicians.  
"The effectiveness of this program is not just theoretical; it's evidenced by significant student satisfaction results achieved annually," he said. "CMSRU's CAS has helped bridge the gap between our interests and ambitions and the path to realizing them."
CMSRU's CAS program is especially proud of its inclusive atmosphere for students with disabilities. The program has been recognized with The Learning Community Institute Award for Program Innovation in disabilities advocacy and education. The unique needs of these students are thoughtfully and collaboratively considered throughout the career advising process.
A record of success and high student satisfaction
The CMSRU CAS program is not just a theoretical framework; it is a proven success story. It consistently delivers high student satisfaction and engagement, and CMSRU's success in the National Residency Matching Program has exceeded national benchmarks since the graduation of its charter class more than a decade ago.
"Our commitment to early engagement sets the stage for students to make decisions that align with their passions and aspirations. It's about helping them build a solid foundation for their future in medicine," said Dean Reboli.
"The significant strides in student satisfaction and the continuous system improvements underscore the success of our school's efforts to prioritize medical student career development at CMSRU," added Dr. Upadhyaya.
A Model for All Medical Schools
The CMSRU Career Advising System has set a high bar for excellence in medical student career advising. Its systematic approach and commitment to students' well-being make it a model that can be adopted by medical schools across the United States.
Click here to learn more about CMSRU's Career & Academic Advising.