Intelligence, Compassion, Grit: CMSRU grad Ed Delesky seeks to impact multiple generations as a family physician
---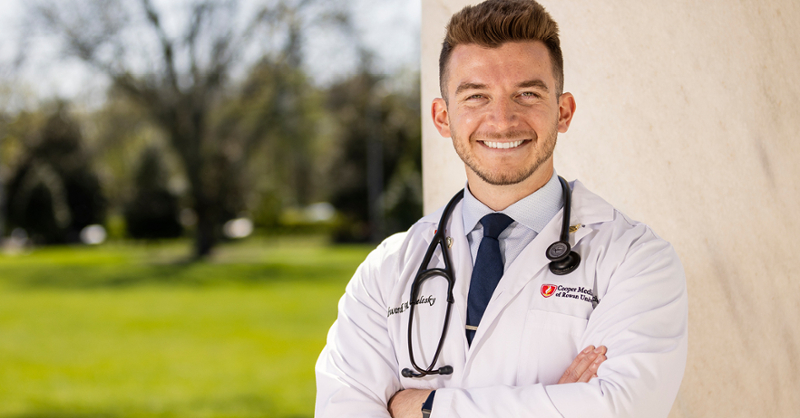 Within the first week of medical school, Ed Delesky knew what type of doctor he wanted to be. But it didn't fall within a specific area of medicine. 
In 2018, as a new medical student at Cooper Medical School of Rowan University (CMSRU), Delesky received and read the book "The Upstream Doctors," by Rishi Manchanda. The book outlines a philosophy of healthcare focused on using a proactive mindset to look "upstream" to identify root causes of health issues, rather than focusing on making a swift diagnosis in a solely reactive manner. 
"After I finished reading the book, I envisioned my future as a physician and thought to myself, 'I should be running upstream. I want to run upstream.'" From that point on, Delesky was determined to do whatever it would take to become a physician who serves as an advocate for his patients. 
'You won't regret taking a chance on me'
When Delesky stepped onto the University Green for the first time as an undergraduate student at Rowan University, he didn't know he wanted to become a doctor.
As a freshman, Delesky began taking courses related to his declared major of chemical engineering. While he enjoyed learning about various aspects related to the field of engineering, he began to consider other career options. 
"I was looking for a career that would allow me to apply critical thinking skills, while also providing me the opportunity to connect with others on a deeper level," recalled Delesky. "When I discovered the various ways in which science and humanism intersect in medicine, I knew it was the path for me." 
With that, Delesky switched his major to biochemistry, and he moved forward in seeking opportunities that would challenge him and push him to learn and grow. He joined many student organizations across Rowan's campus. As a proud team member of the Admissions Ambassadors, Delesky facilitated tours for prospective students and their families. Delesky was also a student athlete. He was a member of the Rowan Men's Outdoor Track and Field Team, representing the Profs in the javelin throw. 
In terms of extracurricular activities related to his academic discipline, Delesky joined the Problem-Based Learning Primer. This group is open to members of the Bantivoglio Honors Concentration in the Honors College interested in pursuing a career in healthcare. Students gather weekly to discuss a range of topics related to different cases, all with the goal of facilitating discussions to prepare for the Medical College Admissions Test (MCAT).
Through this involvement, Delesky recognized he had a strong interest in supporting his peers in learning as they progressed to fully grasping and understanding material regarding a variety of topics related to medicine. As a result, he became the medical student advisor for the Problem-Based Learning Primer Group, as well as a tutor and a mentor to his peers. 
"When I became a tutor, I developed a new perspective. I realized that education is incredibly important to me," Delesky explained. "Seeing something click for someone after they've spent a good amount of time trying to figure it out is exciting. Professionally, it invigorates me and motivates me to never stop learning. I enjoy finding ways to learn and remain up-to-date on current issues."
In 2018, Delesky wrapped up his undergraduate career – graduating top of his class, earning the American Chemical Society Award in recognition of holding the highest grade point average (GPA) among all biochemistry and chemistry majors graduating from Rowan. 
The same year, much to the elation of Delesky and his family, he was accepted into medical school at CMSRU. He got a call from Dr. William Kocher, senior associate dean for admissions at CMSRU.
"I remember feeling so happy and proud," Delesky said. "I said to Dr. Kocher, 'You won't regret taking a chance on me.'" 
The 'treasure' of CMSRU's curriculum
From the very beginning of his time as a student at CMSRU, Delesky knew service learning would be an extraordinarily meaningful part of his medical education journey.  
"The treasure of CMSRU's curriculum is the service learning portion," shared Delesky. "The students here embrace Camden as their school and their home. We enjoy having opportunities to engage with the community so often."
Early on, Delesky found the perfect fit to fulfill the service learning component of his medical education. He joined a group called "Homework Heroes," an opportunity that combined his passion for learning and helping others. Children in the local Camden community are invited to participate in the "Homework Heroes" program.
Twice a week, the children bring their homework with them to the CMSRU Medical Education Building. Medical students provide academic support and guidance to the children as they work on completing their assignments. Delesky credits this group as "hands-down being the most valuable long-term experience" during his time in medical school. 
"Through Homework Heroes, I really enjoyed seeing my classmates in a different light. We had the opportunity to be our genuine, compassionate selves outside of patient interactions," said Delesky.
"This experience acted as an exercise for not only the children, but also for us. We learned to develop patience, and to consider other points of view, which allowed us to form new perspectives. I think that's what adds to developing who you are as a person and the deep layers within." 
Becoming family
As his journey as a medical student comes to an end, it's clear Delesky has proven himself to be a valuable and outstanding member of the CMSRU community. 
In recognition of his character, hard work and dedication to the field of medicine, Delesky has earned prestigious awards, many of which are a result of nominations by his peers and mentors:
M1 and M2 CMSRU Excellence in Community Service recognition for being in the top 10% of volunteers
Selected for membership in the CMSRU Chapter of the Gold Humanism Honor Society
Selected for membership in the Chiron Medical Honor Society of CMSRU – awarded to the top 25% of students based on academic achievement
Elected into the CMSRU Chapter of the Alpha Omega Alpha Honor Medical Society
Most recently, Delesky was nominated and selected for the Edward J. Ill Excellence in Medicine Scholarship. Offered by the Edward J. Ill Excellence in Medicine Foundation, this scholarship supports excellence in healthcare and fosters the future of New Jersey's healthcare community. Recipients of this scholarship must be nominated and selected by an Awards Committee comprised of an independent group of physicians and healthcare leaders.  
"Wherever I go, the people around me become family," Delesky explained. He shared that his professors and fellow medical students are wonderful people. To Delesky, CMSRU feels like home. Knowing his peers, professors and members of the CMSRU community think highly of him holds just as much weight as receiving an award itself.
"It means so much to me," he shared.    
Delesky's unparalleled work ethic comes from his parents, who are genuinely inspirational to him.  
"My mom is the most kind, genuine and open-hearted person that I know," Delesky noted. "My dad is the wisest, most hardworking man that I know. He has a tremendous amount of patience, and I don't think I've ever heard him complain. I aspire to be just like them one day."
With such strong familial ties, it's no surprise Delesky chose to enter into family medicine.
"Family medicine appeals to me because it's a long-term, collaborative journey. I'm driven to support my patients and serve as a partner on their health journey," Delesky shared. "I aspire to be an advocate for my patients. I hope to help identify and address health issues to prevent obstacles down the road."
Delesky matched into Family Medicine at his top choice – Thomas Jefferson University in Philadelphia. 
He looks forward to transitioning to the next phase of his medical education and taking on additional responsibilities as a resident physician.  
"The journey starts and ends on Bunce Green."
As Delesky prepares to proceed across the stage on the University Green at Bunce Hall at CMSRU's Commencement ceremony on Wednesday, May 11, he reflects on his journey with a smile.
"As a Rowan student, your journey starts and ends on Bunce Green," he said.
Over the past eight years, Delesky learned a great deal, formed strong connections and made great memories. Above all else, he positively impacted the lives of others. If his journey so far is indicative of his future as a physician, it's clear that Delesky is already headed upstream.
"In my future career as a physician, when I look back, I wish to feel as though I've tried my best for everyone who needed my help," Delesky explained. "One day, I hope to practice clinical medicine and serve as a professor at the same time."
"My dream would be to return to CMSRU and give back to a community that has meant so much to me."