CMSRU welcomes new students during third annual White Coat Ceremony
---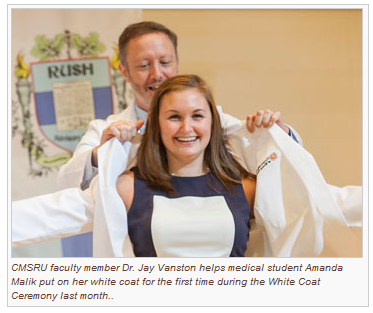 While the brilliant glow of the afternoon autumn sun illuminated the Camden sky on a recent Friday, bright smiles and heartfelt emotions from students and their proud loved ones lit up Cooper Medical School of Rowan University (CMSRU) as the school's 72 new medical students, members of the Class of 2018, were cloaked for the first time in short white coats – the universal jacket of the medical student.
The donning of the white coat is part of an annual ritual known as the White Coat Ceremony, held at CMSRU and at medical schools throughout the United States. This important rite of passage celebrates the accomplishments of students' journeys toward medical school admission and serves as a symbolic welcome into the medical profession.   
"We're at an interesting time in medicine, when there is an over-abundance of people who want to go to medical school," said Paul Katz, MD, Dean of CMSRU, during his opening address to the nearly 400 people in attendance. "Obviously, these men and women are capable of handling the academic rigors. But we saw something special and different in them. They match our mission, and that is very important to us.  They will become our future physician leaders, providers of care to the underserved, and our futuremedical innovators."
Valerie Montgomery Rice, MD, president and dean of Morehouse School of Medicine, served as keynote speaker for this year's event.  She is the sixth president of Morehouse School of Medicine and the first woman to lead the free-standing medical institution.  Dr. Montgomery Rice is a renowned infertility specialist and researcher, and most recently served as dean and executive vice president of Morehouse.
"Today you will don your white coat and you are going to be wearing it as far more than a fashion piece," said Dr. Montgomery Rice.  "It will be a piece of clothing the significance of which I hope you will appreciate every day."
Dr. Montgomery Rice shared a personal story about her first day wearing her "short white coat" as a medical student—the emotions she felt, and the lessons she learned working with a newly paralyzed patient.  "Wear your short coat proudly.  It's a training coat.  You will have the opportunity to observe and learn while wearing that coat. It allows for some mistakes. It allows for 'I don't know'," she said. "But it doesn't allow for 'I can't,' or 'I won't,' or 'I don't feel like doing it,' or 'That's not my responsibility.' Because once you put on that coat, it's all your responsibility."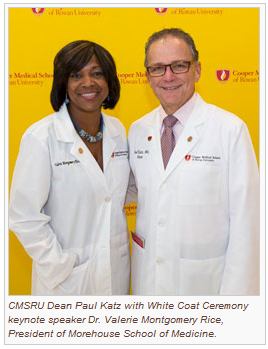 Following Dr. Montgomery Rice's moving presentation, the official cloaking ceremony began.  One by one, CMSRU's first year medical students descended the steps in the auditorium, where they met CMSRU faculty who helped them slip on their fresh white coats as delighted family and friends looked on. 
This year, CMSRU's new White Coat Notes initiative provided each student with multiple handwritten messages of support and congratulations from loved ones, faculty and staff.  The notes were placed in the pockets of the students' coats.  The initiative raised almost to $11,000 for CMSRU's student activities fund.   
The first-year students who comprise the Class of 2018 – 36 men and 36 women – bring with them diverse educational and cultural backgrounds.  They range in age from 22 to 45 years old; seventy-four percent of them hail from New Jersey, including the first two members of the CMSRU class who were born and raised in the city of Camden.  They join the 114 medical students already attending CMSRU, bringing enrollment at the three-year-old school to 186.  CMSRU will continue to gradually increase its class size until it reaches enrollment of about 400 students.
---
About Cooper Medical School of Rowan University (CMSRU)
A partnership between Rowan University and The Cooper Health System, CMSRU opened in summer 2012 in Camden, N.J.  It was the first new medical school in New Jersey in over 35 years and the only four-year MD-granting medical school in South Jersey.  CMSRU is a proudly mission-driven school focused on developing highly skilled and socially conscious physician leaders who value a patient-centered, team approach to health care.  Its innovative curriculum provides students with small-group, self directed learning and early and continuous patient care experiences, beginning the third week of medical school. CMSRU received Provisional Accreditation from the LCME in June 2014.