CAMP connects Camden teens with CMSRU students
---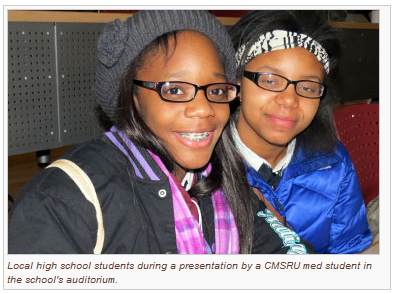 During the 2013-2014 academic year, a group of students from Cooper Medical School of Rowan University (CMSRU) developed and launched a unique mentoring program that has motivated dozens of local high school students to study hard and make good choices in order to achieve their goals.
Known as the Cooper After-school Mentoring Program – or CAMP – the program served 42 high school students from Camden and Pennsauken. The students visited weekly where a team of medical student volunteers helped them with school work, provided science enrichment and offered one-on-one mentoring to help keep these young people on the path toward success.
"Our interactions with these kids from Camden and neighboring areas through CAMP enabled us to develop relationships and create a program for high schoolers that we believe will have a strong impact on them as students and as young adults," explained Atlee Melillo, now third year medical student at CMSRU and co-founder of CAMP.
Eight CMSRU students developed the concept for CAMP last summer and began reaching out to local high schools. They made connections with LEAP Academy Charter School, Pennsauken High School, Brimm Medical Arts High School and Woodrow Wilson High School. Guidance counselors and science teachers helped identify students with an interest in science and medicine, and those who would benefit from a fun extracurricular activity to enhance academic excellence and encourage them to pursue a career in the medical field.
During the first hour of CAMP, CMSRU students had the opportunity to hone their presentation skills as each week they taught a lesson on a different health topic. By the second hour, they were paired with their high school student mentee, where they provided tutoring on any school subject and offered friendship and guidance to the teens to help them make smart decisions on matters outside the classroom.
"My favorite part of CAMP was the second hour when I spent time with my mentor," explained Taliyah Castro, a 15-year-old sophomore at Brimm Medical Arts High School. "He helped break things down for me and made things easy to understand. For my research symposium project that I presented at the end of the school year, he helped arrange for me to shadow an obstetrician/gynecologist, which is what I want to be when I grow up. I knew he would go the extra mile for me. CAMP was a great experience."
CAMP has also been a rewarding experience for the CMSRU students who volunteered for the program as their service learning project. "Working with my students in CAMP was truly one of the highlights of my week," explained third year student Holly Caten. "One is a cheerleader and gymnast and the other loves to help out in the community. I enjoyed guiding them in their desired directions and getting to know them as young adults."
Dr. Jocelyn Mitchell-Williams, Associate Dean for Diversity and Community Affairs at CMSRU, is proud that CMSRU students took the initiative to develop this program and agrees that personally connecting with local youth is an effective way to keep kids working toward success. "After-school programs like CAMP that combine academic support and mentoring can have a significant impact on disadvantaged youths," she explained. "Our medical students are not only helping these teens with their academics, but they are becoming positive role models for them—encouraging them to work hard in school, to be accountable, and to avoid risky behaviors."
---
About Cooper Medical School of Rowan University (CMSRU)
CMSRU is a proudly mission-driven school focused on developing highly skilled and socially conscious physician leaders who value a patient-centered, team approach to health care. To support this goal, the CMSRU curriculum includes 40 hours per student of non-healthcare related community service in Camden per academic year. Most, however, far surpass the minimum number of hours. During the 2013-2014 academic year, over 5,000 service learning hours were completed by CMSRU's 114 students in the City of Camden.