Class of 2023 celebrates 100% in The Match
---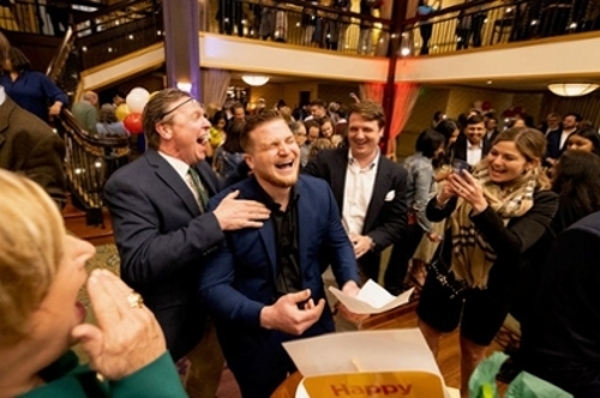 Cooper Medical School of Rowan University's (CMSRU) Class of 2023 joined thousands of graduating medical students from across the nation in learning the specialty and location of the residency programs where they will train for the next three to seven years during an exciting and emotional Match Day ceremony held today at The Collingswood Ballroom, just a few miles from CMSRU's Camden campus.
More than 100 CMSRU students, surrounded by their loved ones, deans, faculty, and leaders from Rowan University and Cooper University Health Care, counted down to Noon – the moment when they were permitted to tear open the envelopes that contained their news. 
One hundred percent of CMSRU students achieved a match, well above the national average of 93.7% for U.S. medical school seniors. They were offered residency positions at some of the nation's most prestigious and competitive programs.
"I am extremely proud of our exceptional Match rate, as well as the quality of the programs where our students matched," said Annette C. Reboli, MD, dean of CMSRU. "The fact that CMSRU students did so well is a great reflection on them, as well as our faculty and programming. My sincere thanks to our faculty and staff who have worked hard to prepare our students for this moment."
This year's CMSRU Match Day was the largest in the school's history, with 104 students seeking residency positions. Fifty-seven (57) of them – or 55% -- will enter training programs that prepare residents in primary care medicine: 45 will begin internal or family medicine residencies; six will specialize in pediatrics; and six will go into obstetrics and gynecology.
Students also matched in some of the most competitive specialties, including neurosurgery, otolaryngology, orthopedic surgery, integrated interventional radiology, urology, radiation oncology and vascular surgery. Others will specialize in psychiatry, emergency medicine, general surgery, anesthesiology, radiology, neurology, and physical medicine and rehabilitation.
Twenty-five percent of this class is remaining in New Jersey to complete their training, including 15 students who matched at CMSRU/Cooper University Health Care.
Members of CMSRU's Class of 2023 matched at a range of esteemed programs across the country, including: Boston University, Brown, Children's National Hospital, Cleveland Clinic, Dartmouth, Icahn School of Medicine at Mount Sinai, Mayo Clinic, Montefiore Medical Center/Einstein, New York University Langone, TJU/Nemours Children's, University of California, University of Maryland, University of Massachusetts, University of Pennsylvania, University of Pittsburgh, University of Virginia, and Weill Cornell Medical Center.
 Click HERE to see the Class of 2023 Match results.
---