Taking a holistic approach to admissions
---
CMSRU takes holistic approach to application review process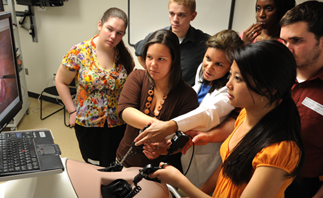 Medical College Admission Test (MCAT) scores do matter. But the MCAT isn't the only measurement leaders at Cooper Medical School of Rowan University (CMSRU) will consider as they build their inaugural class of 50 students.
"The MCAT will tell us if a student is likely to succeed in medical school. But we're also going to be looking at the applications in a more holistic manner," says Dr. John McGeehan, CMSRU's Associate Dean for Student Affairs and Admissions.
"Our goal is to identify students who will match our mission – and will thrive in our curriculum."
McGeehan said CMSRU's admissions office also will consider the academic and extracurricular paths applicants have taken, community service they have completed, and the rich experiences they've had en route to their decision to become physicians.
The first class of CMSRU students will begin studies in the fall of 2012. The medical school expects to receive more than 3,000 applications for admission.

The leadership at CMSRU has created a curriculum that focuses on early clinical experiences, lifelong learning, professionalism, a sound base of technical skills, critical thinking and extraordinary communication.
"What differentiates great physicians is their ability to connect with their patients," Founding Dean Dr. Paul Katz says. "We're looking for 50 very special students who will become members of the charter class of our medical school."
CMSRU is seeking a diverse class of students who exhibit community consciousness and social responsibility and who have had life experiences that "increase the understanding of diversity and the role it plays in the practice of medicine," Katz notes.
According to McGeehan, students who interview at CMSRU will undergo a traditional interview. Additionally, they will have the opportunity to meet with an "actor" posing as a patient in a simulated clinical setting.
The unique exercise, which will last just five minutes, will give the admissions team a feel for the applicant's interpersonal skills, McGeehan says.
"Our curriculum, our mission, our school is driven by patient care," McGeehan says. "We're looking for individuals who are going to love being part of the community. The interview is another opportunity for outstanding students to show us who they are."
The medical school is taking a different approach to medical education--and its students will reflect that, Katz says. Students will serve—and learn from—the residents of Camden, he notes.
"We expect them to have a sense of community, a sense of service, a sense of giving back," Katz says.
All applications to CMSRU must be submitted through the American Medical College Application Services.