CMSRU welcomes new medical students during annual White Coat Ceremony
---
Earlier this month, Cooper Medical School of Rowan University (CMSRU) officially welcomed its new first-year students into the profession of medicine during the Class of 2025 White Coat Ceremony.
The White Coat Ceremony included inspirational talks by several special guests, the traditional "cloaking" ceremony, and the students' first recitation of the Hippocratic Oath. Due to the pandemic, the number of guests was scaled back and all attendees were required to be fully vaccinated and masked. The event was livestreamed on CMSRU's YouTube channel for those who could not attend in person this year.
Click here for a 3-minute video recap of the event.
"You have chosen to enter medicine during a global pandemic and your attitudes will be forever shaped by this profound experience," said Annette C. Reboli, MD, dean of CMSRU, during her opening remarks. "Our job over the next four years is to help you become the person who fills your white coat with the attitudes and skills worth of our noble profession."
Rowan University President Ali Houshmand, PhD, and Rowan University Provost Anthony Lowman, PhD, welcomed the students and their loved ones to the Rowan family, and congratulated them on achieving admission into medical school.
"Every person, in their history, experiences pivotal moments that shape who they are," said President Houshmand. "Today is one of those moments for you."
In his remarks, Provost Lowman noted the challenges faced by this particular class due to the COVID-19 pandemic, including virtual learning and a virtual medical school interview process.
"This is a good time to celebrate," Dr. Lowman said. "You've done an amazing job the last couple of years -- proving a record, working hard, being committed. Today, you've proven that you've got what it takes."
This year's White Coat Ceremony guest speaker was Lucy Rorke-Adams, MD, who retired from a 50-year career as senior neuropathologist at Children's Hospital of Philadelphia, and clinical professor of pathology and laboratory medicine at the Perelman School of Medicine at the University of Pennsylvania. In her remarks, Dr. Rorke-Adams offered words of wisdom and welcomed the new students into the profession of medicine.
"It doesn't matter what you look like or what your station in life is, we are a family. And it is my joy and my privilege to welcome you to the family of medicine," stated Dr. Rorke-Adams.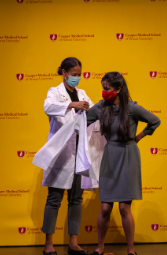 Following Dr. Rorke-Adam's presentation, students were called one-by-one to the stage, where they were cloaked in their white coats by faculty mentors and each received a new stethoscope compliments of the Medical Staff of Cooper University Health Care.  In addition, family and friends provided inspirational notes that were placed in the pockets of the students' white coats.
Associate Dean for Admissions William Kocher, MD, then led the first-year students in reciting the Hippocratic Oath for the first time. All guests who were physicians were invited to stand and renew their commitment by participating in the recitation as well.
CMSRU's 113 first year medical students join the 331 students already attending the school, bringing enrollment to 444 students.
The first White Coat Ceremony was held in 1993 at Columbia University College of Physicians and Surgeons and has become an important rite of passage for first year medical students at schools throughout the United States.