CMSRU makes history at first-ever commencement event
---
Forty-three medical student pioneers made history today by becoming the very first physicians to earn their MD degrees from Cooper Medical School of Rowan University (CMSRU).
More than 650 people celebrated the milestone at a special event held under a tent at the KIPP Cooper Norcross Academy in Camden, including families and friends of students; deans, faculty, and executives from Rowan University and Cooper University Health Care; and business and legislative leaders from the city, county and state. Among the many political leaders in attendance were N.J. Governor Chris Christie and Camden City Mayor Dana Redd.
"Today is certainly a historic day for the City of Camden, for Cooper Medical School of Rowan University and for the Class of 2016," said Governor Christie. "This graduation provides a tremendous opportunity to advance New Jersey's tradition of innovation and excellence in the medical sciences through the highly skilled physician leaders being educated and trained here at Cooper Medical School. My sincere congratulations to those embarking today on a future filled with success."
The day began with nearly 180 graduates, deans, faculty and honored guests dressed in academic regalia taking a three-block walk through the streets of the Cooper Health Sciences' campus in Camden, beginning at Cooper University Hospital and ending at CMSRU's Medical Education Building. This event was organized to highlight the groundbreaking partnership between Cooper University Health Care and Rowan University that led to the creation of CMSRU, and the institutions' commitment to the City of Camden.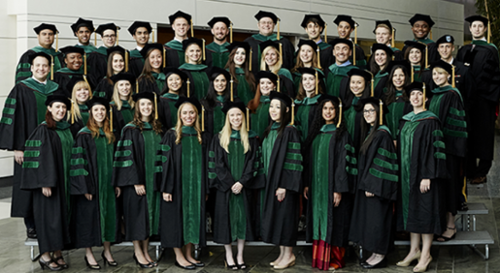 "The graduation of the first class from Cooper Medical School of Rowan University is a proud day for Cooper University Health Care and South Jersey, and the culmination of many years of dedication to transforming a vision into reality," said George E. Norcross, III, Chairman of the Board of Trustees at Cooper. "I wish all of our graduates the very best and I know they will make us proud as they begin their medical careers."
In his remarks, Rowan University President Ali Houshmand noted that the day was not just a milestone for the graduates; it was also a milestone for Rowan University. "Rowan's partnership with Cooper University Health Care to create this medical school changed both our institutions," he said. "It is also helping to bring about change in this city and region and in countless people's lives."
Indeed, CMSRU's location in Camden and its commitment to serving the city it calls home provided graduates with a unique opportunity to develop a keen understanding of the social context of health care. The school's unique curriculum – particularly its early and continuous patient care exposure and service learning opportunities – encouraged the development of strong interpersonal and leadership skills. Students provided nearly 7,000 hours of non-healthcare-related community service in the City of Camden over four years, including activities such as tutoring and mentoring the city's youth, coaching sports, building a community garden and feeding the homeless.
"Today is an opportunity to recognize the tremendous individuals who contributed in countless ways to help make the more than 40-year dream of a medical school in Camden a reality – a promise kept," said Paul Katz, MD, Dean of CMSRU. "In addition, it is a time to celebrate our amazing charter class for having the courage to take a chance on a new medical school that had only a vision, a mission and a dream to become truly unique. You each took a risk – an enormous, high-stakes risk. Thank you for being our standard bearers."
Drawn from nearly 3,000 applicants in 2011, 74 percent of CMSRU's charter class hailed from New Jersey. They brought with them a wealth of diverse life experiences and backgrounds in fields such as academia, research, military, performing arts, and missionary work, but all shared the drive to become successful physicians and the passion to affect change in their communities.
In March, the graduates were offered residency positons through the National Residency Matching Program. Twenty-two of the 43 students will be entering specialties that comprise primary care medicine: 15 will begin internal medicine residencies; five will start in pediatrics; two in family medicine.
More than one-third of the class will remain in the Delaware Valley region to complete their training, including eight students who matched at Cooper University Hospital in emergency medicine, general surgery, internal medicine, and vascular surgery programs. Students also matched at the Hospital of the University of Pennsylvania, Children's Hospital of Philadelphia, St. Christopher's Hospital for Children, Temple University Hospital, Thomas Jefferson University Hospital, and DuPont Children's Hospital.
Nationally, students matched at a range of esteemed programs, including: Children's National Medical Center in Washington, D.C., Columbia-Presbyterian Hospital, Dartmouth-Hitchcock Medical Center, Boston University Medical Center, University of Southern California, UCLA, and Rhode Island Hospital/Brown University.